[no_toc]
Salar De Uyuni is the world's largest salt flat, the 11,000 sq kilometre landscape of bright white salt, rock formations and cacti-studded islands is the most popular tourist attraction in Bolivia. The best way to experience this amazing landscape and the other attractions on the Bolivian Altiplano is to take a 4×4 Tour from either San Pedro in Chile, Uyuni or Tupiz in Bolivia. However before you take a tour here are 12 facts you should know that will help you prepare for your 3 or 4 day adventure and give you some idea of what to expect without any hidden surprises! (Tour companies don't tell you everything)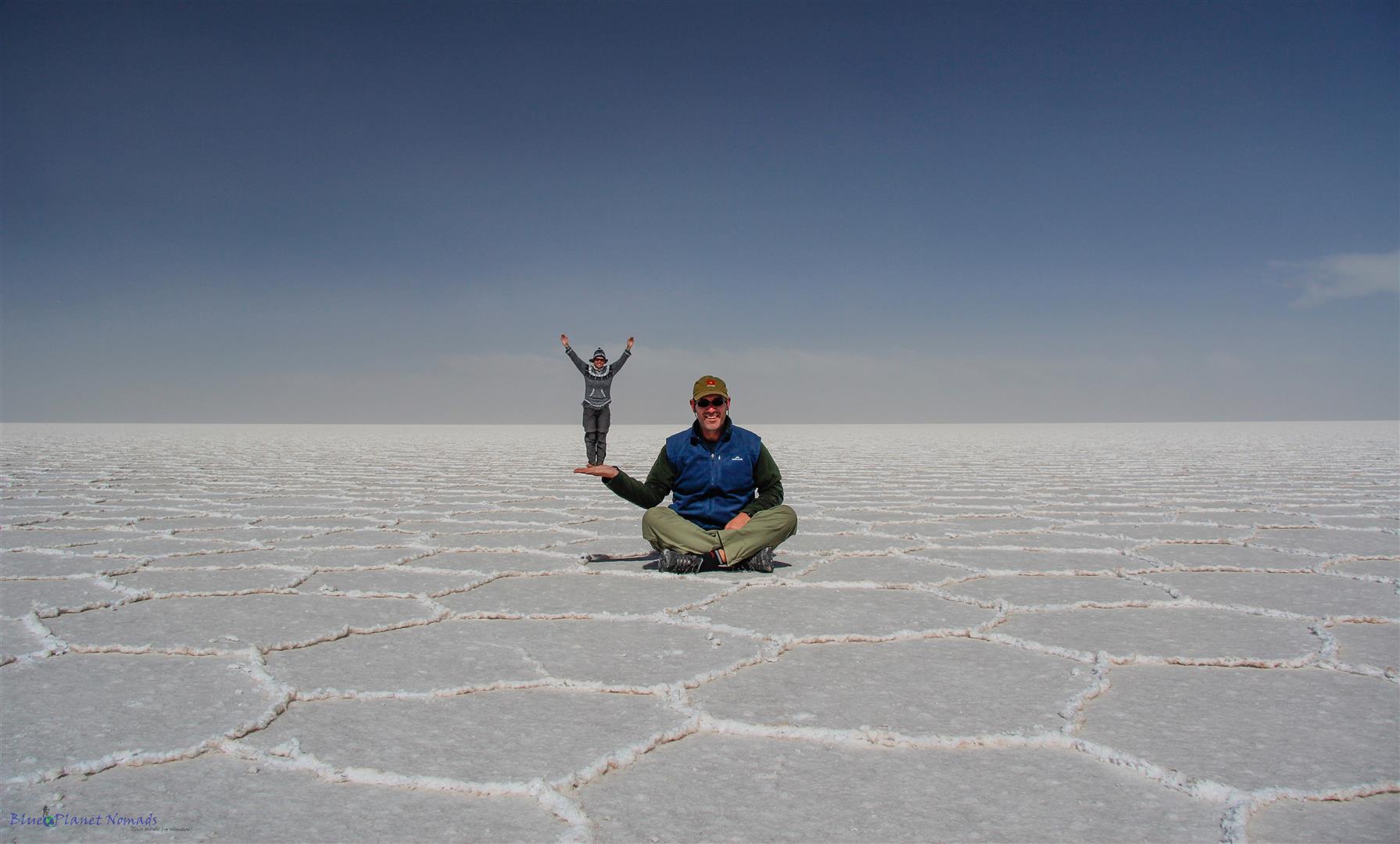 1. When to go
There are two seasons:
Wet – November to April
Dry – May to October
The best time to go is the dry season but it's also the coldest where temperatures can be just above or below zero especially in the months of June to September. During the wet season tours may be cancelled as they wouldn't be able to get vehicles through the tracks. To see the mirror reflections then the best time is March and April but once again you could be restricted by where you can go due to flooding and track closures.
2. Which direction to start
You can start in either direction from San Pedro in Chile finishing in Uyuni or vice versa. In my opinion starting in San Pedro is the better option because you save the best day until last! You can also do trips from Uyuni and finishing in Tupiza and vice versa. The best choice is to start in one town and finish in the other. Tupiza is a much nicer town to spend time in and tours from there are rumoured to have less people.
3. Choose your tour operator wisely
I have talked about this already in my Salar de Uyuni a 3 Day Adventure post but I thought I would just summarise it again here. Whether you choose to start in San Pedro and finish in Uyuni or vice versa you will find numerous tour companies offering the same trips. Do your research on sites like Trip Advisor, Lonely Planet Forums and blogs, also you may meet travellers that have already done the trip and can recommend a tour operator. We did our trip starting in San Pedro in Chile with Cordillera Traveller and they were very good, we chose them based on recommendations from travellers we met and also doing some research.
One of the biggest issues travellers complain about is drunk drivers which is more common when drivers contract to the company and don't actually work for the company. This is something to be aware of as not only is it dangerous it can ruin your trip. It's worth paying that little more for a better experience.
4. Check the itinerary
When choosing a tour operator make sure they stop at the places you most want to see. Top attractions are:
Laguna Blanca
Laguna Verde
Laguna Colorado where you will find the flamingos
Thermal Pools
Mud Pools and Geysers
Arbol de Piedra
Isla de Pescado
Uyuni Salt Flats
Train Graveyard
Staying in a salt hotel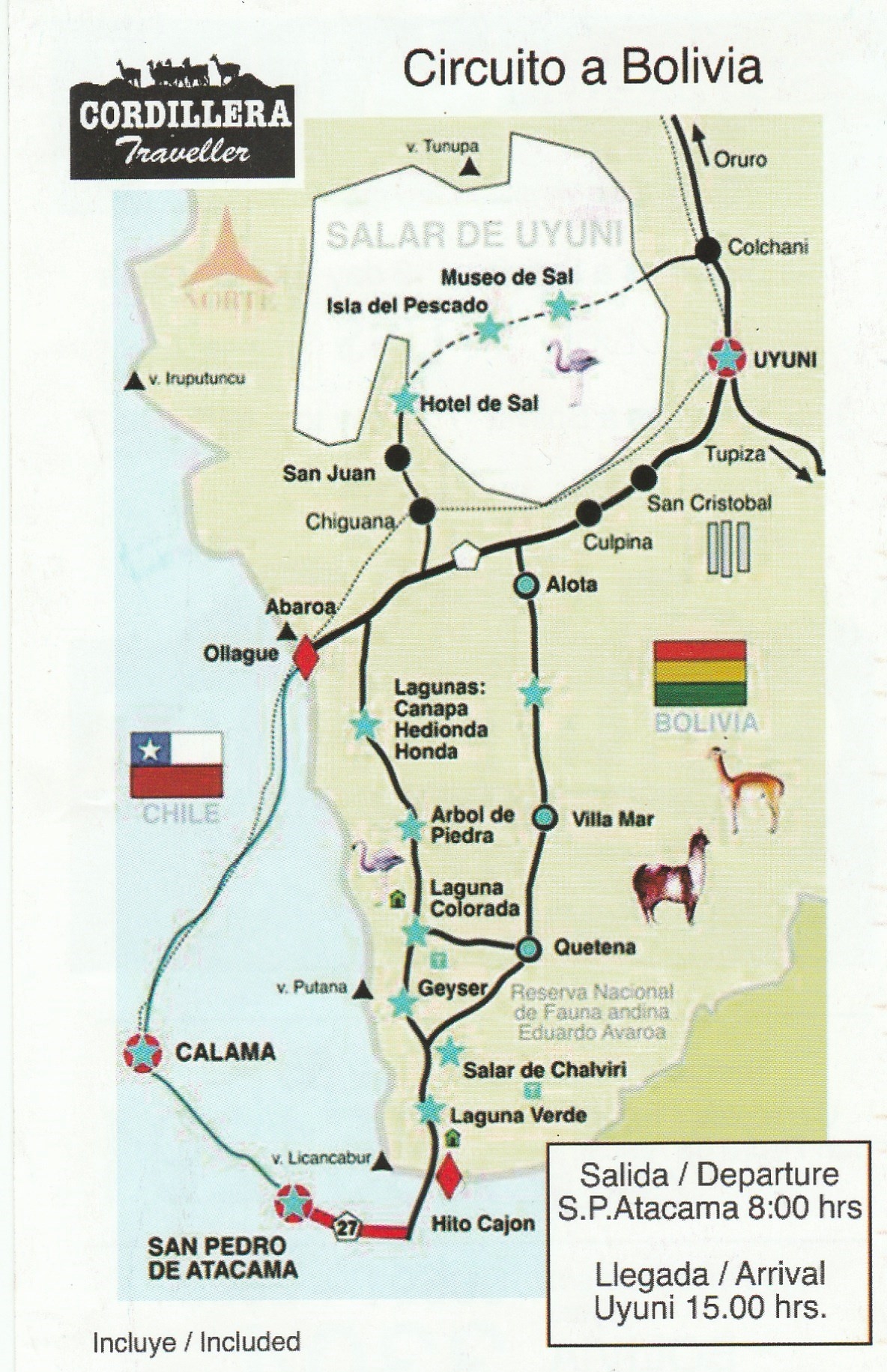 5. Take plenty of spare camera batteries and cards
The accommodation you stay at for the night is basic and runs off solar so there may not be an opportunity to charge your batteries, phones etc or if there are opportunities you will likely be charged! Your' going to take tones of photos so it's wise to take with you spare batteries for your camera and spare cards. A power bank is also useful for charging gadgets like your phone and Ipad/Tablet.
Also as it gets very cold this can cause batteries to drain quickly so at night it's a good idea to put your batteries in the sleeping bag with you 🙂
6. If you can't speak Spanish then read up on the places your going
Chances are you will get a driver that can't speak English and if you can't speak fluent Spanish then its a good idea to either read up beforehand on the places your going or have a guide book handy! Some of the more expensive tours do have an English guide.
7. There is no internet!
If you can't live without your Facebook, Twitter and Instagram for 3 days then think again about going on this trip! This is an opportunity to disconnect and enjoy the amazing environment and the company of your fellow travellers.
8. Pack warm clothes its going to be cold!
Its cold! period. Your' at altitude of over 4500 meters in a barren landscape with no wind protection so it gets very cold especially during the winter months. We went in May the start of the dry season and it was bitterly cold and snowed! so expect all types of weather. Some suggestions of what to pack:
Thermals
Fleece
Warm hat, gloves and scarf
Rain Jacket
Warm socks
Trekking shoes
Warm sleeping bag – They supply blankets but it might not be enough to keep out the night chill
Swim suit for the hot springs
Towel
Wet wipes – You may be lucky and have access to at least one shower
Sun block – Sun reflects of the white salt which can burn
Sun glasses
Small first aid kit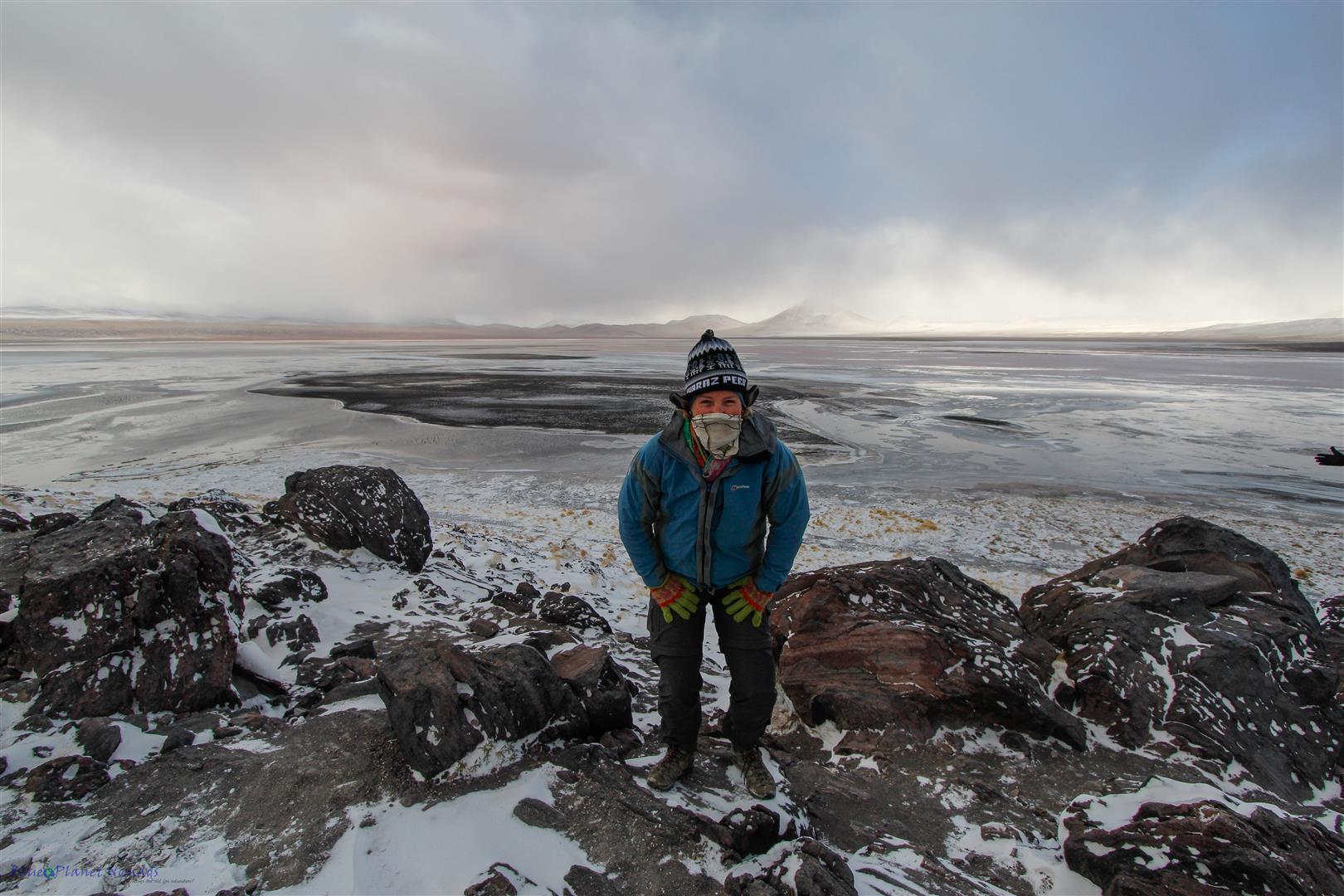 9. Take extra cash
You need at least 200 Bolivianos for the entrance fee if it's not included in your tour. You won't need much on the actual tour but take some extra just in case.
10. Avoid altitude sickness and know the symptoms
On this tour you will be at altitudes of over 4000 meters and if your' not properly acclimatised, altitude sickness can set in. Try spend some time at altitude before the tour to reduce the risks and most importantly drink plenty of water and avoid excessive alcohol as this dehydrates you. Symptoms include:
Headaches
Nausea
Dizziness
Loss of appetite
Tiredness
If you are prone to altitude sickness then it's a good idea to pack some altitude pills like Diamox before setting off for these higher parts of the world. If you drink plenty of water before, after and during the tour and not try to exert yourself then you should be OK.
11. Be prepared for basic accommodation and bumpy car rides
If you are wanting creature comforts then this is not the trip for you. You will be in a 4WDrive with 6 other people for three days riding over bumpy surfaces and in the car it can get squishy. Accommodation is basic, some with no showers and no heating so on this trip you need a sense of adventure!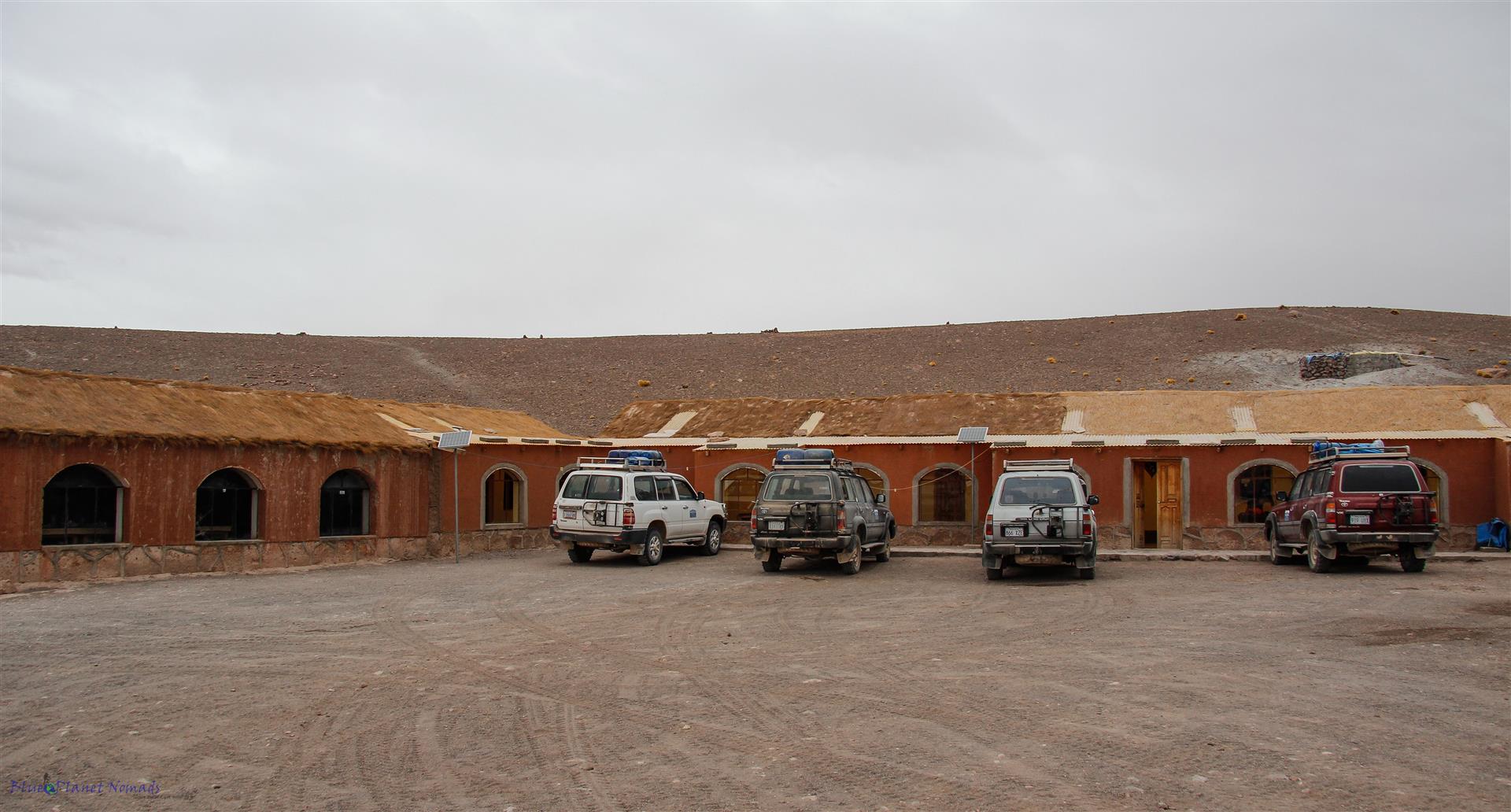 12. Keep your personal stuff safe
You need not worry about your main bag as it will be tied down on the roof under a tarp until you reach your accommodation. All you need in the car with you is a small day pack with items you need for the day, plus your water and snacks. You may stop in a local village for lunch and I advise you take your valuables with you when you leave the car as theft does occur as it did on our trip!
13. Getting out of Uyuni Town
If your destination is Uyuni then you might want to move on! it's a small ugly dusty town with not much happening, really it's just the jumping on/off point for your tour. Accommodation isn't the best either. Tupiza is supposed to be a much nicer town. Getting out you have at least three options:
Train – There is a train that goes both north as far as Oruro, you will need to take the bus the remainder of the journey to La Paz. For both north and south bound you will need to check timetables and stopping points
Bus – This is the cheapest and most preferred option for travellers. Buses between Uyuni and La Paz are night only. The best night bus to La Paz is the tourist bus Todo Turismo. Its clean, comfortable, reliable and has on-board service. The journey to La Paz is around 12 to 15 hours and road is horrendous, bumpy and full of pot holes! So your best bet is this bus but you need to book it in advance as its popular. We took a local bus as we did plan on staying in Uyuni the night until we saw what a hole the town was an opted to leave! we were too late to get on Todo as it was booked out. The local bus was OK but it was old and tired with broken seats and we stopped in some god foresaken town in the middle of the night to pick up locals. Suffice to say not the most comfortable journey. Other popular destinations are Sucre and Potosi where you can get both a morning and evening bus.
Plane – If you have plenty of spare cash and in a hurry then you can fly to La Paz but flights are not cheap usually more than $150.
For more information on transportation in and out of Uyuni then visit this excellent site – La Paz Life
Read our post "Salar de Uyuni a 3 Day Adventure" for a detailed account of our three day trip starting in San Pedro de Atacama in Chile.